Underwear
Have you ever been cold while skiing or too warm while cycling? Then it may be because you have not worn the right underwear for your sport. We carry a wide range of specially developed functional underwear for many different sports and in various designs and materials. Be it a lightweight sports underwear for
running
, a warming thermal underwear for the next
ski tour
or breathable
merino underwear
. You have the choice between versatile
tops
,
sports bras
and
bottoms
. Almost our complete range is produced by renowned manufacturers who are leaders in the development and production of functional sports underwear. We hope you enjoy your next outdoor adventure!
» Find functional underwear that simply fits you with our buying guide
Functional underwear at eXXpozed
What is functional underwear?
Functional underwear are all those garments that are worn directly on the skin and take over the moisture management, especially during sports activities. This means that this type of underwear absorbs body moisture and sweat caused by movement and quickly transports it away from the skin to the outside. In the process, the functional fibers absorb the water molecules in their fabric, distribute them generously and transport the moisture further to the outside. Thanks to the quick-drying properties of functional underwear, the wearer does not get an uncomfortable or damp feeling. Versatility deserves another plus point. Functional underwear can be worn all year round. During the hot summer months, it allows good ventilation to protect against overheating, and in winter, these garments warm due to good insulating properties. Functional underwear comes in different designs and shapes. These include underpants, long underpants, ¾ thights, sports bras, long and short baselayers.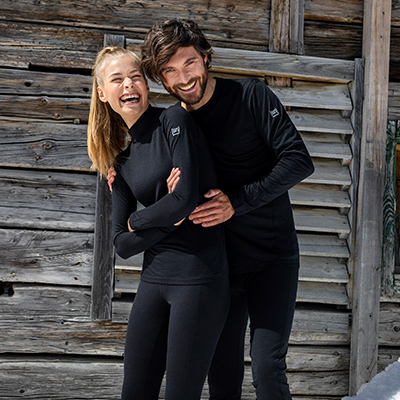 Why should you wear functional underwear?
We all know the well-tried onion principle. This refers to a widespread principle in the outdoor industry of putting several layers on top of each other in order to be able to react flexibly to changing temperatures and activities. To do this, you need a breathable jacket. But the best functional jacket is of no use if the underlying layers retain moisture and prevent breathability. This is exactly where you need to be able to fall back on reliable functional underwear for sweaty pursuits. In addition, conventional underwear made of cotton is unsuitable for sports, because the cotton fibers absorb sweat excellently, but then do not release it anymore and the moisture accumulates.
Functional fiber, merino wool or material mix?
Functional underwear is basically made of two main materials. The functional fiber and merino wool. Combinations of both raw materials have also established themselves on the outdoor sports market, and quite rightly so. What are the advantages and disadvantages of each material and the material composition, you will learn in the following comparison.
Functional fibers: Functional underwear made from functional fibers scores with very good moisture transport. Synthetic fibers quickly wick sweat to the outside, absorb very little moisture themselves and dry again quickly. Compared to materials such as wool, underwear made from functional fibers is extremely light and the wear is less. Thus, this type of fiber is the first choice in summer temperatures, as well as for people who sweat easily and for those who can not stand wool on the skin. However, functional underwear made of synthetic fibers is also produced in thicker versions for winter (thermal underwear). Synthetic fibers can be particularly varied in terms of fiber thickness and material properties and specifically designed for the subsequent purpose. If you are on a short, intensive and very sweaty trip (trail running, sporty day tours, mountain biking, ski touring, etc.), there is nothing that has a more effective moisture management than functional underwear made of synthetic fibers. The only disadvantage: garments made of synthetic fibers start to absorb body odors relatively quickly.


Merino wool: The alternative to the functional fiber is functional underwear made of merino wool. The fine, thin wool of merino sheep is usually not scratchy. Basically, natural fibers provide a very comfortable, natural body climate and warm even when the fibers are damp. This is due to the fact that sheep's wool can absorb about 30 percent of its own weight in moisture, which is then evenly released to the outer layers. Merino wool is odorless and does not build up static electricity. These properties ensure that merino wool should always be worn when out and about for long periods of time. For days of trekking with constant movement, there is nothing better than doing yourself and your fellow hikers a favor with odor-neutral and functional merino wool. Disadvantage compared to functional underwear made of synthetic fiber: wool dries much slower - but still much faster than cotton. Moisture transport works more slowly with functional underwear made of merino wool than with synthetic fibers, and the wool is comparatively heavier.


Material mix: True to the motto "the best of both worlds", manufacturers now offer functional underwear made from many mixed materials. The possible combinations of merino wool and functional fibers are versatile. In these mixed forms, the advantages of both materials are combined to get the most out of them. Either the materials are mixed as a whole, or the cut is divided into different zones. Areas of the body that release a lot of moisture are covered with synthetics, while other areas are warmed by wool content. A blend of merino wool with polyester provides more effective moisture transport and dries faster than pure merino wool. A combination of merino wool and Tencel (Lyocell) is recommended especially for people with sensitive skin. The material is very soft and pleasant to wear on the skin.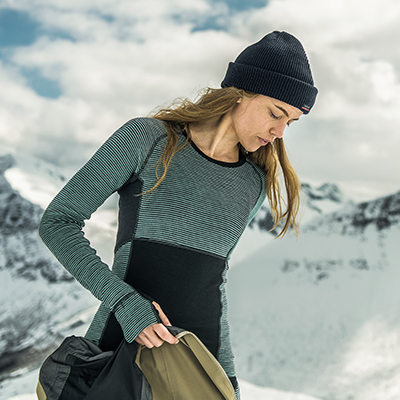 How should functional underwear fit?
There is one rule of thumb to follow: In order for moisture transport to function properly, functional underwear should fit close to the body. Only if the material lies directly against the body (without constricting or chafing) the moisture can be absorbed effectively. In addition, functional underwear should be cut close to the body, as it is worn as the first layer under midlayers and thus serves as basic equipment. With a snug fit, unnecessary bulky fabric and possible chafing can be prevented. Recommended are parts with flat seams (flatlock) or directly without seams (seamless). In the latter case, a special circular knitting process is used. This minimizes or eliminates any chafing or pressure points that may occur, for example under the backpack, at the waistband or under the armpits. When it comes to the cut of functional underwear, the intended use and personal taste play a role. Slips, for example, offer more freedom of movement, while panties or hot pants should cut in less. For winter, the classic long (thermal) underpants are available in different leg lengths, for example as a ¾-length version. These are particularly suitable as ski underwear, as they prevent chafing and pressure points when worn with ski boots.
How do you care for functional underwear?
The functionality of underwear goes and falls with its care. Proper care of functional underwear, in turn, depends on the materials from which the garments are made. Therefore, beforehand and for each individual item, first study the care instructions, as the manufacturer may give care instructions that differ from common tips. In general, synthetic fibers can almost always be washed in the washing machine without any problems. Check the enclosed care instructions to see if the pieces are suitable for the dryer. Functional underwear made of merino wool may also be machine washed, depending on the model and material composition. For this, a gentle wool washing program should be selected and special functional detergent added. Under no circumstances should bleach or fabric softener be used. Garments made of merino wool must not be put in the dryer. The fabric would be affected by the high temperatures and rotary movements. Merino underwear should only be air-dried, which can be done conveniently on the clothesline. If you do not use the functional underwear for a longer period of time, store the pieces in a well-sealing closet or laundry box. The closure should not be airtight, but should provide protection from annoying insects.
Our favorite topics: Thermal underwear | Ski underwear | Kids functional underwear | Icebreaker classics | Yoga sports bras | Devold functional underwear