JANUARY DEALS % ➤ Save 20% and more on many items from current Winter Collections! The full discount is calculated automatically in the shopping cart ➤
Shop now!
Ponchos & Capes
Whether you're hiking at high altitude, climbing on rocks or ski touring in meters of snow - outdoor jackets are available for every occasion! They protect you from extreme conditions such as cold, rain, wind or snow and are therefore an absolute must for outdoor activities. From casual leisure jackets to rain & hardshell jackets to warming down jackets, we offer the entire spectrum of high-quality functional jackets for every season and every purpose. But with so much choice, it's hard to find the right jacket. Therefore, use our filter functions with which you can search for exactly the material properties that you need. And if you don't quite know which model is right for you, just take a look at our
buying guide
. You'll quickly become an expert in the field of functional jackets.
» Find your perfect ourtdoor jacket
Outdoorjacken at eXXpozed
What characterizes a good outdoor jacket?
First and foremost, a good outdoor jacket should fit well and be neither too big nor too small. While jackets that are too large insulate worse, jackets that are too tightly cut restrict freedom of movement - neither of which is ideal when you're out and about. Depending on the weather, a good outdoor jacket should protect you from cold, rain or wind. Especially with waterproof outdoor jackets, it is important that the jacket is breathable. A special membrane ensures that perspiration is wicked away to the outside and the jacket is comfortable to wear even during sweaty activities. Anyone who has ever been out and about in non-breathable outdoor clothing knows how important such a function is. Although such rain jackets and pants reliably keep out the wet, after a short time you sweat so much under these materials that you arrive at your destination soaked despite the rain protection. An outdoor jacket should also offer the wearer enough freedom of movement so that he or she is not hindered by the clothing during sports. Softshell jackets offer a lot of freedom of movement because they are slightly stretchy. Last but not least, outdoor jackets should be robustly made to withstand contact with sharp-edged rock, for example, without damage. And always relevant for being on the road: A low weight and a small pack size.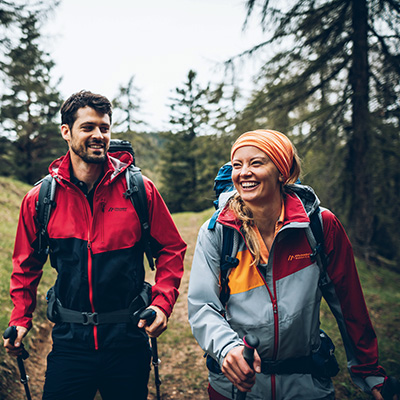 Which outdoor jacket is the right one?
When buying an outdoor jacket, you should first consider which type of jacket is right for you. Depending on the area of use, climate and expected weather conditions, there are many different ones:
How are outdoor jackets washed?
In order for your outdoor jacket to serve its purpose in the long term, a few things must be taken into account when caring for it. Many people shy away from washing these favorite items of clothing and the question arises: how do I get my jacket clean again without impairing its functional performance? Don't panic. With the following step-by-step instructions, you'll quickly become an expert at washing outdoor jackets.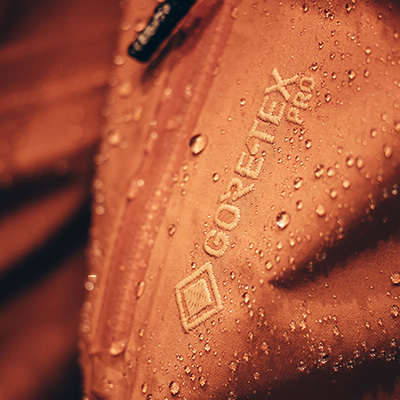 Don't rush and start throwing your jacket in the washing machine. Rather, take a little time for this, after all, outdoor jackets are garments in the higher price segment. So before you start, always study the washing instructions of the product. For some functional jackets, there are additional small things to consider besides our How-To guide.


Empty the pockets and close all velcro and zippers. Then turn the jacket inside out..


Use liquid mild detergent or special detergent for outdoor products instead of detergent powder. Under no circumstances should you use fabric softener, detergent or bleach. Those can damage the functional fabric of outdoor jackets and clog the pores of the functional fibers. In addition, pay attention to the correct dosage of detergent. It may vary depending on the manufacturer's instructions.


Select a gentle wash program with a temperature between 30°- 40° and a low number of spins. Do not pack the washing machine too full, so that the jacket has enough space to be rinsed.


After the wash process, the jacket must be properly dried. Either in the fresh air or at a warm temperature in the dryer. If you choose the second option, you should select a gentle cycle for the dryer.


Especially GORE-TEX jackets have a Durable Water Repellent (DWR) impregnation of the outer material. It ensures that water simply rolls off outdoor jackets and you are kept dry in the rain. To reactivate this function, it is recommended to put the jacket in the dryer for about 20 minutes at low temperature (functional clothing program). Thus, the DWR impregnation is redistributed on the outdoor jacket and the coating is restored. This process cannot be repeated infinitely. The number of repetitions is limited. If this occurs, an impregnation spray or wash-in impregnation must be applied to the membrane. In this way, the DWR impregnation can be reactivated.
What brands offer outdoor jackets?
Our outdoor brands cover the entire spectrum of outdoor jackets - from leisure jackets and robust hiking jackets to premium ski jackets for the most demanding requirements. The Swedish manufacturer Fjällräven, for example, specializes in developing extremely robust outdoor jackets in timeless cuts. Companies such as Vaude, Jack Wolfskin, Patagonia oder The North Face rely on high-quality functional materials, robust fabrics and modern cuts for their outdoor jackets. In the premium segment, Kjus convinces with ski jackets made of uncompromising materials with innovative design and great wearing comfort.
Where can I buy cheap outdoor jackets online?
Reason to be happy! You can find a large selection of outdoor jackets for every occasion also in our outlet. From fleece jackets to down jackets and 3-in-1 jackets - browse through our great offers!
Our favorite topics: Waterproof jackets | Patagonia jackets | Kids jackets | Maloja jackets | Running jackets | Ski jackets